Mehdi Hasan passes away, end of an era
Islamabad, Wed, 13 Jun 2012
NI Wire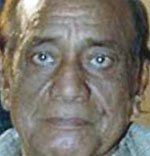 India born Pakistani ghazal singer who better known as 'Shanshah-e-ghazal', Mehandi Hassan died after a long illness in Karchi. He was 84 and suffering from lung, urinal disease for the last 12 years. Hassan who was born in Rajsthan India, migrated to Pakistan after partition.
His son Arif Hassan said that Mehandi Hassan was ill for the last 12 years but his situations deteriorated in the last month. He was discharged from hospitals for just one day before being admitted again, he added.
It is noted that Hassan had been suffering from lung, chest and urinary tract diseases for the last many years, was born in 1927 in a Rajsthan village called Luna. He settled down to Pakistan after partition. His father and uncle were famous dhrupad singer and he continued the tradition of singing of his family from his part.
However he has to face a lot of trouble and difficulties in his early life, yet he never succumbs before the odd situations. He has especial significance in the field of ghazals and people called him sahanshah-e-ghazals.
Hassan leaves behind his nine sons and five daughters. He married twice. Both his wives are dead.
(With inputs from IANS)
LATEST IMAGES

MORE...
Social bookmark this page
Post comments: