PM honest, but lack of political toughness: Ramdev
Hyderabad, Mon, 11 Jun 2012
NI Wire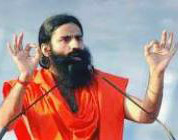 Targeting Prime Minister Manmohan Singh, Yoga Guru Ramdev has said that he is working under pressure and that is why he seems not able to smile. He is today in Andhra Pradesh to seek support from Telugu Desham Party (TDP) for his support on the black money and corruption issues.
Terming government white paper on the black money as a 'false paper', Ramdev said that some black money lies out side the country but still some is available inside the country in various means.
Commenting on Prime Minister, Ramdev said that he is always under pressure. That's why he is not even able to smile. Prime Minister is personally is honest person but there is a need to display political and constitutional honesty from his side, he added.
Ramdev said that an agitation would be held Aug 9 against black money and corruption. He said gold accounted for the largest amount of black money in the country and sectors such as real estate and mining also had a large amount of the ill-gotten money.
Meanwhile TDP leader Chandra Babu Naidu has assured him to support fully for his movement against black money and corruption. Naidu said that it is need to network with all concerned people should be come forward in the fight against corruption and black money.
(With inputs from IANS)
LATEST IMAGES

MORE...
Social bookmark this page
Post comments: