DMRC is the model organization: Sheila Dikshit
New Delhi, Fri, 04 May 2012
NI Wire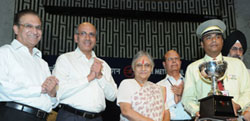 The Delhi Chief Minister. Sheila Dikshit has described Delhi Metro Rail Corporation (DMRC) as a 'model' organization on its 18th Foundation Day celebrations and wished other organizations to follow the methodology and competence to deliver quality work.
Speaking on the occasion, she said the Delhi Metro has presented a perfect example of meticulous and dedicated working towards project completion in a major city like Delhi without causing traffic jams in crowded locations like Janpath and Bahadur Shah Zafar Marg.
The Hon'ble Chief Minister revealed that her government has entrusted DMRC the task of studying and implementing 'Monorail' in the capital for which the preliminary work is already in progress.
On the occasion, Dr. Sudhir Krishna, Secretary, Ministry of Urban Development and Chairman, DMRC, said that the Central government is committed towards providing full support to Delhi Metro while marching ahead towards prosperity.
. Mangu Singh, Managing Director, DMRC, said that 2016 is the new goal-post for DMRC as regards Phase III project completion. Delhi Metro aspires to complete yet another 140 kilometers in Phase III with majority of the contracts almost finalized.
On the occasion of the 18th Foundation Day, HUDA City Centre Metro station was declared the Best Metro Station award and was presented with the 'Best Station Rolling Sheild" award. Shri Pinaki Ghosh, Station Manager, New Delhi Metro Station, won the 'Metro Man of the Year (2011-12)' award for his outstanding professional acumen and organizational skills in managing the Metro station which has very high passenger footfall.
In addition, thirty-four other Metro employees were also awarded with 'Managing Director's" award for their outstanding performance in their respective areas of work during the preceding year (2011-2012).
LATEST IMAGES

MORE...
Social bookmark this page
Post comments: