Can Sehwag and Delhi's Dare forbid Dhoni and Super Kings from their third Final?
New Delhi, Fri, 25 May 2012
NI Wire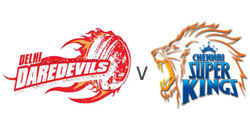 The big question today before the start of the match is can Sehwag and Daredevils finally put a full stop to Chennai Super Kings?
Chennai Super Kings after a wavery play in the league bring out their A game against Mumbai and played like a champion. Dominating in every part of the game they didn't gave any chance to Mumbai to be on top. They have to do it again today as this match id Do or Perish for both the teams. Chennai has not experimented with their line up much and they might go with the same team today as well.
Delhi had a dream run this year and from the start they played better cricket. However the previous match against Kolkata Knight Riders saw some baffling decision and result was their loss. Delhi have to dominate this game or they won't stand the chance. Sehwag and Warner have to fire, Taylor must be played at 4, Jayawardene must up his game and Morkel, Yadav and Aaron must get their line right. The only problem is should Sehwag go with an extra spinner or a fast bowler on Chennai pitch.
2nd Qualifier of the Indian Premier League will be played between Delhi Daredevils and Chennai Super Kings at M.A. Chidambaram stadium of Chepauk, Chennai and will start at 8pm.
Chennai Super Kings Team:
MS Dhoni, S Anirudha, R Ashwin, S Badrinath, GJ Bailey, DE Bollinger, DJ Bravo, F du Plessis, BW Hilfenhaus, MEK Hussey, RA Jadeja, SB Jakati, Joginder Sharma, S Randiv, KMDN Kulasekara, VY Mahesh, JA Morkel, A Mukund, SK Raina, WP Saha, SB Styris, S Tyagi, K Vasudevadas, G Vignesh, M Vijay
Delhi Daredevils Team:
V Sehwag, MC Juneja, VR Aaron, AB Agarkar, P Bisht, R Bist, GH Bodi, DAJ Bracewell, U Chand, AJ Finch, DPMD Jayawardene, GJ Maxwell, M Morkel, S Nadeem, Y Nagar, PT Naik, P Negi, NV Ojha, IK Pathan, KP Pietersen, KC Raval, AD Russell, AM Salvi, LRPL Taylor, RE van der Merwe, Y Venugopal Rao, Vikas Mishra, DA Warner, TP Yadav, UT Yadav, Zafir Patel
LATEST IMAGES

MORE...
Social bookmark this page
Post comments: