Strom in BJP meet; after Advani now Shushma skip rally
Mumbai, Fri, 25 May 2012
NI Wire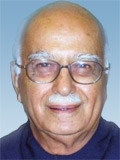 Bhartiya Janta Party's (BJP's) national executive meet that began in Mumbai to display the message of unity in the party, has depicted contrast images so far. Earlier, ego clashes between Narendra Modi and party ex-national executive Sanjay Joshi created storm and now Party Patriarch and veteran leader Lal Krishna Advani, and leader of opposition in center and senior BJP leader Sushma Swaraj have skipped a party rally, leaving speculations among party men.
According to reports, Advani and Sushma swaraj along with many senior leader have refused to attend a party rally, scheduled to be held in the evening after the meet where all party members were scheduled to show the party's strength. The skipped leaders were reportedly disagreeing to extend the presidentialship of Nitin Gadkari for the second term under the pressure of Rashtriya Swayam Sewak Sangh (RSS).
Some other sources said that Advani left the meet because of sulking BJP leader from Karnataka B S Yedyurappa who was coming Mumbai for attending the meet. Yedyyurappa has severely criticized Advani while appreciated Modi.
Before beginning the meet, the contention between Modi and Sanjay created suspension among the party men whether Modi, a strong leader of BJP will attend the party or not and after resignation of Sanjay, Modi's way became cleared and he accepted to attend the meet, which last year in Delhi, he had refused to attend.
The sharing stage of rivals Modi and Gadkari in the absence of Advani and Swaraj is reflecting a new equation in the politics and if it is believe, this second lining leadership is going to hold the command of the party, politics experts believe.
--With Agencies Inputs--
LATEST IMAGES

MORE...
Social bookmark this page
Post comments: