IPL 2012: Rajasthan Royals must win to make room in playoffs
New Delhi, Fri, 18 May 2012
NI Wire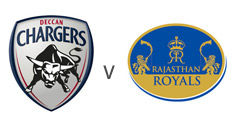 It is a must win match for Rajasthan Royals as if they loose they will be out of the competition for playoffs. While Deccan will play for its pride and will hope to win its last two matches.
Individual performance in Deccan Chargers has been amazing be it Dale Steyn or Shikhar Dhawan or Cameron White, all have performed amazingly well. Only problem is that rest have not clicked at all and that is the reason Chargers have failed in this season.
Rajasthan have amazed strong teams with bat and ball and have the capability to take any team any day. With the likes of Shane Watson and Tait there strength in bowling and batting has increased. Dravid, Rahane, Owaish, Hodge and Hogg have done it time and again for their team and they will hope and they click in this match as well.
Rajasthan Royals are at present at 7th position with 14 points and have one game after this match while Deccan are at the bottom of the table and they too have one game after this to play.
The 68th match of IPL will be played in Rajiv Gandhi International Stadium of Hyderabad and will start at 8 pm.
Deccan Chargers Team:
KC Sangakkara, A Ashish Reddy, Anand Rajan, Ankit Sharma, T Atchuta Rao, AA Bhandari, DM Bravo, B Chipli, DT Christian, KH Devdhar, S Dhawan, JP Duminy, MS Gony, DJ Harris, IR Jaggi, AA Jhunjhunwala, CA Lynn, A Mishra, T Mishra, PA Patel, V Pratap Singh, SA Quadri, DB Ravi Teja, PA Reddy, BB Samantray, C Sneha Kishore, S Sohal, TM Srivastava, DW Steyn, TP Sudhindra, J Theron, CL White, AS Yadav
Rajasthan Royals Team:
R Dravid, STR Binny, J Botha, DL Chahar, A Chandila, LD Chandimal, AA Chavan, A Chopra, PD Collingwood, K Cooper, AP Dole, SM Fallah, FY Fazal, SP Goswami, BJ Hodge, GB Hogg, AL Menaria, S Narwal, Pankaj Singh, AG Paunikar, AM Rahane, AS Raut, OA Shah, PR Shah, A Singh, S Sreesanth, SW Tait, SK Trivedi, SR Watson, DH Yagnik
LATEST IMAGES

MORE...
Social bookmark this page
Post comments: