IPL 2012: A must win game for Royal Challengers Bangalore
New Delhi, Thu, 17 May 2012
NI Wire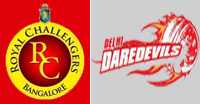 Royal Challengers Bangalore will take on Delhi Daredevils at Feroz Shah Kotla stadium of Delhi at 8 pm in the 67th match of IPL. Though they have one more game left after this but they are at a situation where they have to win both these matches and hope for favorable result by other teams so that they can make it to the top four.
On the other hand Delhi Daredevils are already qualified for the playoffs but will want to win and secure the top position so that they can avoid the eliminator. They are at present at the top of the table with 20 points.
Royal Challengers Bangalore is at 5th position with 15 points.
Delhi Daredevils have a dream run this season, they have won 10 out of their 14 games and would like to continue their winning streak. Delhi would also like to take the revenge of their previous defeat by RCB. They also have a home advantage over RCB.
RCB will hope that Chris Gayle, Dilshan and AB de Villiers all bring out their A game and destroy Delhi's attack and Murali, Zaheer and Vinay Kumar backs the batsmen with their superb bowling. Though RCB still face the problem of 5th bowler that cost them the previous game.
Players to look out for Delhi are Sehwag, Jayawardene, Morkel, Warner and Irfan, on the other hand RCB will look to their big guns to fire.
Delhi Daredevils Team:
V Sehwag, MC Juneja, VR Aaron, AB Agarkar, P Bisht, R Bist, GH Bodi, DAJ Bracewell, U Chand, AJ Finch, DPMD Jayawardene, GJ Maxwell, M Morkel, S Nadeem, Y Nagar, PT Naik, P Negi, NV Ojha, IK Pathan, KP Pietersen, KC Raval, AD Russell, AM Salvi, LRPL Taylor, RE van der Merwe, Y Venugopal Rao, Vikas Mishra, DA Warner, TP Yadav, UT Yadav, Zafir Patel
Royal Challengers Bangalore Team:
DL Vettori, MA Agarwal, KP Appanna, KB Arun Karthik, RR Bhatkal, AB de Villiers, TM Dilshan, CM Gautam, CH Gayle, M Kaif, AA Kazi, Z Khan, V Kohli, CK Langeveldt, AB McDonald, A Mithun, M Muralitharan, KK Nair, DP Nannes, R Ninan, P Parameswaran, HV Patel, AUK Pathan, LA Pomersbach, CA Pujara, RR Rossouw, J Syed Mohammad, S Thiyagarajan, SS Tiwary, R Vinay Kumar, VH Zol
LATEST IMAGES

MORE...
Social bookmark this page
Post comments: