Standing Committee to submit Land Acquisition Bill in Parliament today
New Delhi, Thu, 17 May 2012
NI Wire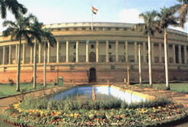 A Parliamentary Standing Committee is likely to submit its recommendation report on much-awaited Land Acquisition, Rehabilitation and Resettlement Bill - with suggestions for tough norms that would make it very difficult to acquire land for industry - before the Lok Sabha on Thursday.
According to sources, it is understood that if all recommendations of Parliamentary Standing Committee are accepted without making any modification, it will become more stringent as some proposals look really radical like land can only be allowed to acquire if there is a purpose of mass public welfare works not for profit.
The standing committee comprises by several members of Parliament (MPs) and headed by BJP leader Sumitra Mahajan have proposed more stringent Land Acquisition, Rehabilitation and Resettlement Bill that will make tougher for private companies to acquire land for generating profits.
It is also being said that Congress Secretary Rahul Gandhi and Rural Development Minister Jairam Ramesh were major force behind the bill which has received some vital recommendations from National Advisory Council headed by Congress President Sonia Gandhi.
According to sources, it is understood that farmers fertile land can not be acquired by any private or public-private- partnership firm for any purpose. Only state or central government can acquire it for the sole purpose of social sector projects or for infrastructure projects and the landowners consent would be necessary for it. Moreovr, the compensation will be given to land owner at land's market price.
It is also recommended that states will decide the market value of land according to areas and it also need a close consultation of local gram sabha and panchayat.
The panel also recommended that private industry cannot directly acquire any land and they will have to go through states' route. The industries also need the consent of 80% of the local populace. They would have to pay four times the registered land value in rural areas and double the value in urban areas as compensation to the landowner, if the recommendation approved by the parliament.
According to law, land is a state subject and states can make their own laws in accordance with the principal law. The new law, once in place, would replace a 117-year-old law.
--With Agencies Inputs--
LATEST IMAGES

MORE...
Social bookmark this page
Post comments: