Evidence of largest feathered dinosaur found in China
London, Thu, 05 Apr 2012
NI Wire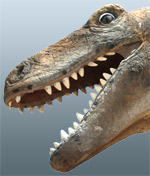 Palaeontologists have found Evidence of the largest feathered dinosaur in China. The new species known as Yutyrannus has been identified from three fossils found in northeastern China.
The new spices which is assumed meat-eating dinosaur lived about 125-million years ago. It means the duration is long before the Tyrannosaurus rex. The estimated weight of the same is whopping 1,400 kg as an adult.
It is noted that Tyrannosaurus rex and its gigantic cousins lived until around 65 million years ago - when a huge asteroids wiped out the dinosaurs - but most of their earlier relatives are thought to have been much smaller.
The fossils include the one-and-a-half-tonne adult and also two juvenile specimens that would have tipped the scales at about half a tonne.
Xing Xu and colleagues from the Chinese Academy of Sciences in Beijing have now described three specimens of Yutyrannus. They have claimed that these specimens represent an early example of the Tyrannosauroid form.
According to experts the dinosaur, whose name translates as "beautiful feathered tyrant", shares some features with later tyrannosaurs like T.rex, but has three functional fingers (where T. rex had two) and a foot typical of other early tyrannosaur relatives.
Perhaps the most notable discovery, however, is the creature's extensive plumage, which provides direct evidence for the existence of giant feathered dinosaurs.
(With inputs from ANI)
LATEST IMAGES

MORE...
Social bookmark this page
Post comments: