Katy Perry is obsessed with teeth cleaning
New Delhi, Sat, 24 Mar 2012
NI Wire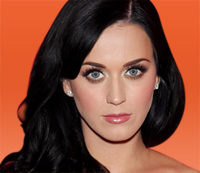 Celebrities and obsessions are almost synonymous and singer Katy Perry is no exception. As per reports she brushes six times a day because she is afraid of getting dental fillings.
This celebrated singer has 20 new toothbrushes.
"We won't go anywhere without a stack of brushes," a source has been quoted saying to showbizspy.com.
"When she was a kid she had 13 cavities. So she now brushes her teeth six times a day."
This celebrity singer has said that her tooth-cleaning habit was inspired by Britney Spears.
"I brush my teeth all the time. I wanted them to be, like, Britney Spears white. I used to grow up seeing her music videos and be like, 'What does she do? Does she get a new set of teeth all the time? They're so white'," she has been quoted as saying.
"I'll brush my teeth (after) breakfast, lunch and dinner... I did have 13 cavities at one time, so you can imagine why I'm so freaked out. When I was a kid I didn't really go to the dentist a lot and when I finally went, they were like, 'You might as well get a new set of teeth'," she said.
LATEST IMAGES

MORE...
Social bookmark this page
Post comments: