Team Anna to actively participate in upcoming elections in states
New Delhi, Tue, 17 Jan 2012
NI Wire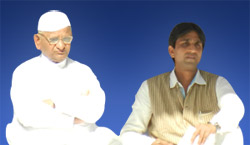 New Delhi, Jan 17: Team Anna known for anti-graft crusade has hinted that it will actively participate in upcoming elections in states. Anna Hazare's associates Kumar Vishwas and Manish Sisodia has expressed desire of Team Anna to actively campaign in the forthcoming elections in all the five states.
Talking to mediapersons on Monday, Kumar Vishwas hinted at 'Team Anna's' plan of action for the forthcoming elections in five states.
As per the decisions taken by the core committee and the acceptance received by Anna Hazare, we will actively participate in the five states. After making the voters aware about the politics of Lokpal, the view of the state party on Lokayukta and preparations made by the ruling party and rest of the parties, we will appeal to them to cast their vote in large numbers and we will raise the new question of the participation of people in the republic,' he told media persons.
As far as the question arises about the participation of Anna Hazare during the election campaign, it will totally depend upon his health. Earlier, he stated that he would participate only when he himself feels fit and after the discussion with the doctors. The assembly polls is just one stop and health of Anna is the priority, then only he will be able to come for campaigning and to celebrate the occasion of January 26. If the health condition doesn't improve, he won't be able to attend any political function," said Mr. Vishwas.
Vishwas also added that the team's intensive campaign would be focused on propagating the message to fight against corruption.
We start with our tour from January 20-22 in Uttarakhand and Arvind Kejriwal, Kiran Bedi, Manish Sisodia and I will go to different places in the state. As and when the elections would proceed through phases in Punjab, Uttar Pradesh, we will visit important places at district levels in the states and covey our message to our people," Vishwas was quoted as saying.
Another Team Anna associate Manish Sisodia said hat main agenda of campaign in upcoming elections will be to root out corruption.
The final preparations are still left to be done; however, we will commence our tour some time next week. We will visit Uttarakhand, Punjab, Uttar Pradesh, Goa and the preparations are in full swing. It is difficult to say anything about Manipur as yet, but we will campaign during all the seven phases of elections in Uttar Pradesh and in Punjab and in Uttarakhand. Our main agenda is to campaign against corruption," he said.
The Election in all the five states would be held between January 28 and March 03.
--With inputs from ANI
LATEST IMAGES

MORE...
Social bookmark this page
Post comments: