BREAKING NEWS: Anna Hazare, three others end fast
New Delhi, Fri, 03 Aug 2012
IANS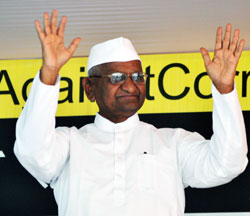 BREAKING NEWS: Anna Hazare, three others end fast and Jantar Mantar
Before ending his fast at Jantar Mantar in New Delhi, they announced that they are forming a political party.
Team Anna will contest the elections if Jan Lok Pal bill is not passed by government.
Anna Hazare, will support his aides. "What do those in power know about corruption and the common man? They sit in air-conditioned offices all day," he said.
LATEST IMAGES

MORE...
Social bookmark this page
Post comments: