Rapes '?? the curse on India
New Delhi, Mon, 21 May 2007
Nadeem Bhat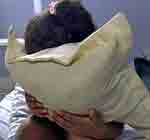 May 21: Rape is a ruthless crime and a plague to which modern day women are more or less exposed to. The increase in the number of rape cases in the country can best be figured by the crime columns which are filled with ghastly stories and incidents almost every day. It has now become like a regular beat and now and then there is some news about it. Woman has been subjected to severe tortures and the Indian society is no different in this regard.

Rapes are common in both rural and urban India. However, more cases are reported from cities that from remote places. The most vulnerable targets amongst the women are those who belong to lower castes. However class is not the only indicator. The rich, the educated, elites, these evil architects belong to diverse sections and woman has no safety anywhere. In many cases the family and acquaintances are often rapists including fathers, uncles, and cousins.

The sad thing about the evil practice in India is the lack of seriousness with which the crime is often treated. Statistics from 2000 showed that on an average a woman is raped every hour in India and the rate has increased manifolds at present.

This offence often holds a different story, altogether different than in the case of other crimes. Firstly the victims are often reluctant to report rape, secondly in order to get a conviction it is very humiliating for a victim to prove the accused guilty. Even if the culprit is penalized it does not end there as the victim is often ostracized from her family and community. With the family honor and pride at stake she opts to keep mum. This problem is exacerbated by the fact that laws relating to rape are inadequate and definitions so narrow that prosecution is a tedious and a difficult process to go through.

According to statistics, only one in 69 rape cases committed in India are reported. Only 20 % of those reported result in convictions for the rape accused.

From little girls to aged mothers the devils spare none. Child rapes take place at an alarming rate. Statistics prove that age is no barriers for the monstrous criminals.

The state police is loaded with unlawful elements, which prove to be favorable to the criminals. Rather than checking it the police at many places have been found amplifying this crime. The corrupt officials when they get to know of a rape, or even when a rape victim approaches them, they do everything to discourage the family from filing a complaint. Often they are threatened, if the alleged rapist is someone holding a powerful position. Yet at other times, the police remind the victim's family of the social repercussions (permanent social humiliation, no marriages for anyone else in the family etc., etc.) and sometimes even tamper the evidence of the crime.

In this country it is won'??t be surprising to find a policeman humiliating a rape victim, turn his back on the victim, discourage the victim, be foul-mouthed or maybe go beyond the words. It is an accepted fact in India that the Indian policeman represents a rowdy who has the law to back him. The high ranking IPS officers and SPs are often double-faced. In their own social circles, they are the paragons of virtue while in their elements; they are as dangerous as the rest of their lower rung colleagues.

A police station is an intimidating place. Our average policeman hardly knows how to talk politely, and is barely educated, brash and rude. Is this the paragon of sensitivity a victim of rape will run to? Add to this the rising number of custodial rapes which every one knows about. People will turn to a policeman only when they are desperate. Educated and good citizens are abused by the police in India more often than not and they have to call their networks and call upon little nets to get the policemen on duty to treat them with some consideration.

Even if a rape victim passes this hurdle, what remains is the great Indian judicial system. The system offers the perfect means for an accused to wear out the victim. Murder trials last for decades in India. Often, verdicts are produced only after the deaths of the accused or complainant. Just what is the point of filing a case when everything - society, family, and police, legal system throws hurdles in your path? Isn't it then normal for someone to just want to try and forget the rape and get on with it? The system needs to be overhauled to live a life with dignity.
null
null
LATEST IMAGES
null
null
MORE...
Social bookmark this page
Post comments: