Maratha Warriors drubs Chennai Veerans
Chandigarh, Sat, 22 Dec 2007
NI Wire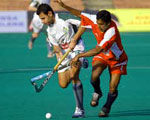 Dec 22: Riding on a brace scored by Pakistani import Rehan Butt, Maratha Warriors opened up their PHL campaign in style by drubbing Chennai Veerans with a convincing scoreline of 4-1 in a one-sided match of the 4th Premier Hockey League at the Sector 42 stadium here on Friday.
The Veerans defence couldn't stand against the troika of Butt, Bharat Chikara and Shivendra Singh as they launched a series of attacks on the rival citadel right from the start. The only consolation for the Veerans was a goal by Raghunath through a short corner in the third quarter.
Warriors shot ahead in the 19th minute through Butt who shot the ball in by a reverse hit. Three minutes later, Chikara scored a brilliant field goal to make it 2-0. Warriors led 2-0 at the end of second quarter.
Chennai Veerans earned their first penalty corner and reduced the margin four minutes into the third quarter raising some hopes for the Veerans to stage a comeback into the match. Drag-flicker Raghunath found the net to beat goalkeeper Adrian in the Maratha goal (2-1).
Warriors Butt finished all the hopes of Veerans with a brilliant strike in the 45th minute to earn his second goal (3-1). A goal at this juncture from Veerans could have changed the complexion of the match but on the other hand they conceded one.
Warriors later earned two short corners but their Dutch player Looijem could not convert them. However, they sealed the fate of the match with another goal in the 55th minute.
Rehan Butt did the groundwork from the right flank and gave a parallel pass to Vikram Pillay in the middle. Vikram pushed it to Bharat Chikara at the top of the striking circle. Chikara passed it to Shivender near the post after seeing advancing custodian Sreejesh rushing out, and Shivender slammed the ball home making it 4-1.
Pakistan 's Rehan Butt was adjudged man-of-the-match for his scintillating performance.
Bangalore Hi-Fliers flies past Orissa Steelers
In another pulsating match, Bangalore Hi-Fliers edged past Orissa Steelers 6-5 in the tie-breaker. In the regulation time, both the teams were locked 2-2 and failed to break the dead-lock in the 10-minute extra-time also.
LATEST IMAGES

MORE...
Social bookmark this page
Post comments: