High Court reserves death sentence on TN bus burning case
Coimbatore, Thu, 06 Dec 2007
NI Wire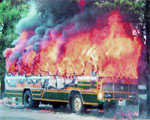 Dec 06: The Madras High Court on Thursday reserved the order of death sentence to three of the accused in the astounding Dharamapuri bus burning case in Tamil Nadu.
Upholding the earlier lower court verdict that has awarded sentence to 28 convicts including death sentence to three, the court ordered without mentioning any date of appeal. However, instead of 7 years imprisonment to 25 others as declared by the lower court, the court awarded only three years sentence to each of them.
It is important here to mention that in the year 2000 three-college girls from Tamil Nadu Agricultural University were burnt alive in a bus near Dharampuri by some political activists of AIADMK. The incident occurred in the violence following the conviction of former Chief Minister Jayalalithaa in a corruption case.
Earlier on Feb 15 this year three of the prime accused Neduchezhian, Ravindran and Muniappan were awarded death sentence by the session court. However, they had appealed in the high court against the judgment but the bench comprising of Justice D Murugesan and Justice V Periya Karuppiah upheld the order.
Fateful Day
On Feb 02 following the conviction of AIADMK chief and Tamil Nadu Chief Minister J. Jayalalitha in the Pleasant Stay Hotel case of 1998 under the Prevention of Corruption Act, several angry activist turned violent while protesting and charred many buses on their way.
Unfortunately a bus carrying students of Tamil Nadu Agricultural University was one of them. AIADMK supporters set ablaze the bus but three women college student got trapped in it and were burnt alive in this horrifying incident.
Three girl students — V. Kokilavani, Gayathri and Hemalatha — were burnt alive and 18 others injured severely near Dharamapuri when they were returning from a study tour.
Pleasant Stay Hotel Case
In Feb 02, 2000 All India Anna Dravida Munnetra Kazhagam (AIADMK) general secretary and former chief minister Jayalalitha was awarded one year imprisonment under the Prevention of Corruption Act. She was convicted with criminal misconduct by granting illegal exemption to a hotel named Pleasant Stay hotel in 1994 [Under the hill area development control rules the addition of five extra floors in the Kodaikanal based hotel was illegal]. Though the Madras High Court later stayed the order but that had already done enough damage to the families of the three innocent girls.
LATEST IMAGES

MORE...
Social bookmark this page
Post comments: