Roar over ethnic protest in Malaysia
New Delhi, Fri, 30 Nov 2007
NI Wire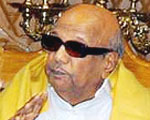 Nov 30: Ethnic protest in Malaysia by Tamils has snowballed into a diplomatic war of words between the two nations.
Earlier the ethnic Indians historically linked to the colonial past gathered in numbers to protest the marginalisation of ethnic Indians in Malaysia.
An NGO called Hindraf (Hindu Rights Action Force) organised a rally on Sunday to hand over a memorandum to the British High Commission complaining against the problems meted out by ethnic Indians.
The protest was suppressed harshly which created uproar in Tamil Nadu with the leaders expressing their concern as well as demanding the redressal of grievances of immigrant.
Nazir Aziz Justice Minister in Malaysian government asked Karunanidhi to worry about his own state after the later complaint of harsh action by police in Malaysia and asked Manmohan Singh to intervene in the matter.
Aziz said, "His place is in Tamil Nadu, not Malaysia. He should worry about his own state. His own state has got problems. This has got nothing to do with him ... lay off."
While, the Minister of Works in Malaysian government, Samy Vellu who is a Tamil himself had assured that situations is under control however he justified the action saying that it has to be taken if people comes out on street like this.
This was the biggest ever protest in Malaysia when thousands of Tamil came on street to voice their concern where they face discrimination due to an affirmative action policy which favours Malays, the native of Malaysia.
This system which has prevented ethnic Indians from getting decent jobs and education to their children is the main cause of resentment among them, who came here as indentured labourer and settled after the contact finished.
However, Karunanidhi clarified saying he did not criticise the Malaysian government, he said, "I don't want to reply to Aziz's remarks. I don't want to get into a tit for tat. It is my duty to defend Tamils."
This is not the first case but ethnic Indians who are left with nothing but just the tag that they are Indian held British responsible for their plight.
LATEST IMAGES

MORE...
Social bookmark this page
Post comments: