World Leaders appealed Myanmar to Free Aung San Suu Kyi
New Delhi, Tue, 15 May 2007
Deepak Kumar Mohanty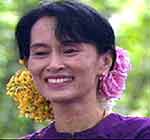 May 15: More than 50 former world leaders from different countries appealed the military government of Burma (Myanmar), to free leader of National League of Democracy (NLD) and Nobel Peace prize winner Aung San Suu Kyi.

Senior leaders of different countries across the world including two former United States presidents urged in a signature campaign to the Military leader of Myanmar to free Suu Kyi before her most recent term of house arrest ends on May 27. Myanmar is in martial rule since 1962.

Like Mahatma Gandhi and Nelson Mandela, Aung San Suu Kyi is also a strong believer of non-violence and democracy. She is the daughter of General Aung San who led his country'??s freedom struggle but was assassinated later in 1947 after freeing his country from United Kingdom.

Her mother Khin Kyi was also a well known national leader and also one time Burmese ambassador to India. Suu Kyi did complete her higher education and spent her married life outside Burma. She returned to Burma in 1988 and this was the year when mass appeal for democratization took place but that was suppressed by military dictatorship. She then joined national politics and found National League of Democracy that advocates democracy.

In the following year she was put under house arrest as martial law came into effect. In 1990, though the military government allowed a general election but after a convincing victory of NLD, the military govt. ignored the victory and again put her under house arrest. But in1991, she own Nobel Peace Prize for her effort in bringing a peaceful democratic reform in Burma.

Till now, she had already spent almost 11 years in prison or under house arrest. Her house arrest term was supposed to expire on May 23, 2006 but the martial law had extended it to another year. So, as her house arrest is now about to end this month, leaders from different countries have appealed for her release.

In a letter signed by former U.S. presidents George H.W. Bush, Jimmy Carter and Bill Clinton, former British Prime Ministers John Major and Margaret Thatcher and former Pakistani Prime Minister Benazir Bhutto and several other leaders of UN, European Union, other dignitaries and human right activists from around the world have urged Aung San Suu Kyi's release.

Now, the time has come for the Burmese authority to set someone free, who had spent most of her life in prison constantly advocating democracy and freedom. She had spent most of her life without any luxury and sacrificed her family only for the rights of Burmese. There are also several other political leaders who are in prison and their release will be a good sign in bringing stability in the country.

LATEST IMAGES

MORE...
Social bookmark this page
Post comments: