Australia lifts Azlan Shah Cup
New Delhi, Mon, 14 May 2007
Nadeem Bhat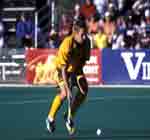 May 14: Australia overcame Malaysia 3-1 to win the Azlan Shah Trophy for the fifth time in the invitation hockey tournament on Sunday.

The Olympic champion Australia displayed their hunger for the title in a very professional way. It was Australia's third title triumph in four years and their fifth overall, as they literally outplayed Malaysia on the penultimate day.

Ed Ockenden ensured the lead for Australia immediately the break when he scored from a move initiated by Andrew Smith and carried forward by Grant Schubert. Within a minute, an adroit forward pass by Bevan George broke the defence for Ockenden to score again.

Malaysia however 0-2 down, continued to make their attacks whenever they got the chance but just failed to convert them into goals. Midway through it was Australia'??s Russel Ford, netting the third goal and putting the issue beyond a shadow of doubt.

The Malaysians drew some consolation from Jiwa Mohan's penalty corner in the last minute of the game, just to make the final scoring read 1-3 to keep them at the 2nd slot.

The barren first-half during which the Malaysians kept up with the Aussies, gave no indication of what was to follow. Australia raised the level of their game when it mattered most and clearly, they were the quicker, fitter and better organized side than the Malaysians who simply did not have the ammunition to counter their mighty opponents.

It was for the second time, Malaysia finished 2nd in the final. They had lost to India in 1985, the only other time the hosts had entered the final of this tournament.

India also put up a good show to finish third in the race. India'??s podium finish was the second in succession. But the manner in which the Indians demonstrated the value of ball possession was commendable. The defence was tight throughout. Harpal and Xalco left no space for the Koreans, confronting effectively all of their attempts at probing.

Final placings: - 1. Australia, 2. Malaysia, 3. India, 4. Korea, 5. Argentina, 6. Pakistan, 7. China, 8. Canada.

LATEST IMAGES

MORE...
Social bookmark this page
Post comments: