Sixty eight militants surrendered in Assam
Guwahati, Fri, 02 Nov 2007
NI Wire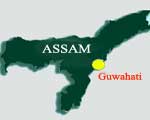 Nov 02: Sixty eight militants including 66 from the banned United Liberation Front of Assam (ULFA) and two from All Adivasi National Liberation Army (AANLA) surrendered before the officials of Army and Assam Police and pledged to abide by the Indian Constitution in a surrendered ceremony.
Tarun Gogoi, Chief Minister of Assam termed the surrender as a reflection of growing disillusionment among the cadres of ULFA which is heading no where under the leaders who are in the influence of foreign countries.
Till now over 650 ULFA militants have surrendered in the state since the peace process broke down in September last year.
He informed that the state might face fresh strikes by the ULFA and its jehadi allies on the basis of information given by intelligence agencies.
Earlier in October, 47 militants mostly from ULFA surrendered in two separate batches of 33 and 14 militants.
Ujjal Gohain, alias Bipul Neog, finance secretary of the ULFA's 28th battalion, Bhaskar Bora, Krishna Kanta Rabha were the senior members of ULFA who surrendered during the ceremony. There were also two women members among the ultras who gave up arms.
Of the 32 weapons surrendered included 8 AK -56 rifles, 5 pistols, 10 revolvers, 37 grenades, 5kg of RDX explosives, ammunitions, gelatin sticks, electronic detonators, Programmable Time Devices (PDT) switches, Rocket Propelled Grenade, and detonators.
The surrendered youth will be given a stipend of Rs. 2000 a month during their stay at the Rehabilitation Training Centre. They will be given a monthly stipend of Rs 2000 per head and after the training they will be entitled to get a financial assistance of Rs. 1.5 lakh.
ULFA is known for creating a terror psychosis among the innocent people. There are several incident when many ULFA militants has renounced their path of armed struggle and the goal of an independent Assam. It has also asked for plebiscite to decide whether Assam wants sovereignty or not.
The separatist groups are believed to have link with Inter Services Intelligence (ISI) of Pakistan and Director General of Forces Intelligence (DGFI) of Bangladesh and waging a proxy war against India also the US Department of state has kept ULFA in 'other group of concern'.
After the death of Deputy Commander of Chief of ULFA, who was deadly against surrender, a lot of members surrendered, these members were allowed to retain the weapon to defend themselves against their former member group. These groups were called as Surrendered ULFA (SULFA).
However, the surrendering was also staged for political reasons and there are reports that say that many people surrendered who were in no way linked to militants group ULFA, just to reap the benefits of rehabilitation package provided by the government.
LATEST IMAGES

MORE...
Social bookmark this page
Post comments: