Dempo, Air India advance to Durand quarters
New Delhi, Fri, 02 Nov 2007
Mukesh Thapliyal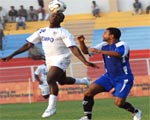 Nov 02: Defending champion Dempo Sports club, Goa started off their campaign with élan as they drubbed Indian Air Force XI 5-0 on the other hand Air India team got the better off newly revamped Osian's New Delhi Heroes 3-1 to advance into the quarterfinals of the Osian's 120th Durand Cup played at the Ambedkar stadium here on Thursday.
Dempo Sports Club stamped their authority right from the start with the match proceedings hardly settled down Dempo skipper Ranti Martins put his team ahead in the 6 th minute. They were clearly a superior outfit as their opponent's Indian Air Force team was no match to them.
It was a totally one-sided match with the second goal coming from Roberto Silva off a fine volley after receiving a fine pass from Chidi Edeh in the 21 st minute. It didn't take long for the skilful and stylish Chidi Edeh to join the party when he shot the target in the 45 th minute to take the scoreline to 3-0 at the stroke of lemon break.
On resumption Airmen did come out with some planning to get back into the match, but their spirits were jolted when Dempo team struck twice in the span of five minutes to score a convincing win against their rivals. Dempo increased their tally through Roberto Silva and Chidi Edeh in the 71 st and 75 th minute of play respectively.
In the other last 16 stage match of the day, formidable Air India team edged past local outfit Osian's New Delhi Heroes riding on Bashiru M Abbas brace. Both the teams showed some spirit to get past each other.
Air India took the lead in the 16 th minute through Bashiru M Abass. This seemed to charge up the Heroes team raising their game ensuring that no further damage was done till half time.
On changing the ends, New Delhi Heroes team looked like a completely changed unit. They started attacking and mounted the pressure on the rivals. They managed to score the equaliser into the third minute of the second half through substitute Malswama.
After conceding an early goal in the second half Air India team got their act together and again surged ahead. Bashiru struck his second in the 64 th minute followed by Samson Singh in the 70 th minute to take the scoreline to 3-1 in their favour.
Air India will now face defending champion Dempo SC on November 3 to fight for the place in semifinals.
LATEST IMAGES

MORE...
Social bookmark this page
Post comments:

David
November 2, 2007 at 12:00 AM