Paes-Damm crashes out of Paribas Masters
Paris, Tue, 30 Oct 2007
NI Wire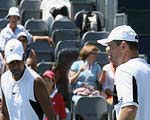 Oct 30: The Indo-Czech pair of Leander Paes and Martin Damm crashed out of the Euro 2,082,500 BNP Paribas Masters tournament, as they were shown the door in the very first round here on Monday.
The duo of Paes-Damm wasted their crucial lead in the first set and lost the match fighting against Jeff Coetzee of South Africa and Rogier Wassen of Netherlands 6-3, 6-7(5), 9-11.
Paes- damm started off well and clinched the first set easily with a 6-3 scoreline but the duo of Coetzee-Wassen came from behind and gave a stiff challenge to their opponents in the second set leading it to the tie-breaker and finally winning it 7-6.
Both the pairs played their heart out to win the decider, stretching it to 20 games, but at the end Coetzee-Wassen got the better off their opposition sealing it with an 11-9 score.
The match stats were went largely in favour of Paes and Damm but it seemed that they lost the plot somewhere in the end. The duo came out with 15 aces as compared to their opponents 4. Similarly their first serve winning percentage was 76% to rival's 62%.
The duo also saved 6 break points out of 7 they faced, while the victors saved 3 out of 5. The only mistake, which went against them, was that they committed 3 double faults that were 2 more than their opposition.
This is surely a disgraceful exit from the event, as they had lost in the semis to eventual winners Jonas Bjorkman and Max Mirnyi in the last edition. This is the second consecutive Tennis Masters Cup for the duo.
Ranked No. 5 in the World Doubles race, Paes-Damm pair will now next play in the Tennis Masters Cup in Shanghai, a prestigious event featuring the top-eight teams on the ATP Tour. The tournament is beginning in Shanghai from November 11.
LATEST IMAGES

MORE...
Social bookmark this page
Post comments: