Whatmore straightaway in action at NCA
New Delhi, Wed, 24 Oct 2007
NI Wire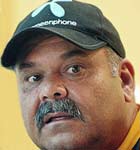 Oct 24: Former Sri Lanka and Bangladesh coach Dav Whatmore, got straight away into action as Director Operations after landing up on the first day at the National Cricket Academy (NCA) in Bangalore and also pointed out some possible changes in the functioning of the academy.
"It's been a good facility. It has been serving Indian cricket very well and we hope to improve it further and I will try to make a meaningful contribution in developing young Indian cricketers and hope to prepare them for senior international competition," Whatmore said while talking to reporters.
The newly-appointed director of operations at the NCA spent his first day at the academy, examining the infrastructure before having a long chat with administrative manager Col. Nair.
The experience of coaching Sri Lanka and Bangladesh, which are in the Indian sub-continent, will certainly help. The NCA's will also be catching those cricketers who have been dropped and have let a few flaws sneak into their technique. The NCA will provide them right opportunity to correct their faults," Whatmore opined.
Whatmore was equally happy and surprised over his appointment for the NCA's post, "It came out of the blue when Ravi called and we had a nice chat about this position at the academy. After a few days of serious thinking, I decided to go along with it," Whatmore said.
About recruiting support staff, Whatmore said, "The chairman has given me the authority through the cricket board to get full-time staff, to even buy in some expertise which may not be readily available in India. All that would be revealed later."
Whatmore will be leaving for Ahmedabad on Thursday to watch the Challenger Series. "If we are going to have players who are on the verge of making international cricket, you would naturally assume that these players will be coming through this competition and it makes sense to start of with that," Whatmore said.
He also praised the new breed of young Indian cricketers. "They haven't got too much fear and I think they are athletic. They have skill as well," Whatmore said.
LATEST IMAGES

MORE...
Social bookmark this page
Post comments: