Raikkonen ends up debate clinching F1 World title
Sao Paulo, Mon, 22 Oct 2007
NI Wire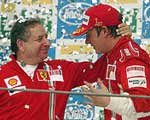 Oct 22: Raikkonen outpointed his arch-rivals with a single point margin
Ferrari's Kimi Raikkonen finally put an end to the threesome debate of who would be the F1 World Champion for 2007. Ferrari's Raikkonen outpointed Lewis Hamilton and his McLaren-Mercedes team-mate Fernando Alonso by barely one point to clinch the title after winning Brazilian Grand Prix at Interlagos on Sunday. Alonso was third while Hamilton came seventh in the race.
It was the third year in a row that the Formula1 season was decided at the Brazilian GP, which shows the fierce on track competition among the racers. It was unlucky for Alonso this time as he won both of his previous titles at the Interlagos track in 2005 and 2006.
British rookie Lewis Hamilton was looking to end up with a phenomenal debut season by becoming the first rookie ever to become the world champion. But, fate has some strange surprises in store at times.
Hamilton was understandably nervous, as this was his first season while Raikkonen has been around the F1 circuit for some time no. Raikkonen made the best use of it. Hamilton, who was second on the grid shuffled and allowed Raikkonen to overtake him at the very first corner. To add to his agony, his teammate and rival Fernando Alonso overtook him as well.
This was the first title triumph for Raikkonen in his career at F1. Speaking after the race, Raikkonen said the close-knit atmosphere within the team made a lot of difference. He said even though the team was covering at certain points in time, they supported each other totally.
"It is just an amazing day. I had an ideal start and then I saw Hamilton slip off in my rearview mirror and then I knew that I must have a chance. But even after I won the race, I still had to wait for a long time before Lewis finished."
The final standings must be upsetting for Hamilton, as he had been leading the points-standings from May 13, and to lose out at the last shot is really frustrating. However, Hamilton was quite happy to be the Number 2 in his first F1 season.
Hamilton was feeling proud that he could now go into the next year's F1 schedule with much more confidence. Hamilton's family members and friends were extremely happy with the outcome, because it was something like a dream for them.
"I always said that whosoever had the most points on the last day of the season deserved the championship," Alonso congratulated Raikkonen on winning the F1 title.
"I knew that Ferrari would manage a top two finish, so I could just wait and see if something was going to happen to them to have a chance to win the championship."
It was really close and tear-jerking for others as you can judge with the final points tally: Raikkonen (Winner) was on 110 while both Hamilton and Alonso ended up with 109 points behind him.
LATEST IMAGES

MORE...
Social bookmark this page
Post comments: