New chapter added to Indo-Philippines relations
New Delhi, Sat, 06 Oct 2007
NI Wire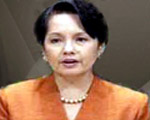 Oct 06: Adding a new chapter to the Indo-Philippines relations and advancing look east policy of India, nine bilateral agreements have been concluded by India and Philippines on Friday including joint declaration on co-operation on international terrorism on the occasion of Philippines president with her large delegation of officials and businessmen.
A joint meeting was arranged by the industrial chambers of India in which Philippines president, Gloria Macapagal-Arroyo told about the fields in which agreements between the two countries have been signed.
Citing the areas of co-operation Philippines president said, "The series of agreement signed with India includes those on defence, health and medicine, energy security, agriculture, tourism, culture. She also dwelt upon the joint mechanism to deal with global terrorism and joint exercise in non combat areas."
At the same time in her speech she also reflected the need to bridge the gap in the trade balance of India and Philippines. This is to be known that of total bilateral trade between India and Philippines India's exports constitute around 80 percent while imports constitute only 20 percent. This heavily tilts the balance of trade in favour of India.
The composition of the import by Philippines from India consists of pharmaceutical items, meat, iron products, steel and wheat products. India imports from Philippines mainly newsprint, cellular phones, fashion garments and consumer electronic products and phosphoric acid.
Ms. Arroyo also disclosed financial assistance by India through Exim bank to boost its pharmaceutical trade and industry.
She also urged India to keep her country's trade interests in mind while concluding any comprehensive agreement as Philippine economy is not as large as that of India.
A joint monitoring group will also be set up by the two governments which will not only look after the effective implementation of the agreements but will also identify further areas of cooperation in trade.
She also suggested that Indian industry should open up manufacturing units in Philippines so that Philippines can have access to cheap medicines.
A joint declaration signed by MEA Pranab Mukherji and his counterpart Alberto G. Romulo identified several prospect areas of co-operation such as defence, security, international crimes, agriculture, health and pharmaceuticals.
A joint commission will also be set up which will meet every six months to develop trade, economic, science & technological areas of cooperation.
An agreement exempts the diplomatic and official passport holders of visa requirements. Such passport holders do not need to get visa for at least 30 days while entering the country.
Focus has been put on combating terrorism and maintaining security of both the countries.
LATEST IMAGES

MORE...
Social bookmark this page
Post comments: