Breast and Lung Cancer can be detected by Cancer Detecting Breathalyzer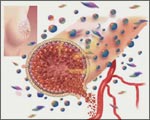 NI Wire, Thu, 14 Jun 2012
A person breath can now help in detecting the presence of cancer in Breast and Lung through a cancer-detecting Breathalyzer system.
Human body home to 10,000 bacteria: Research


NI Wire, Thu, 14 Jun 2012
Washington University School of Medicine in St Louis carried on a research on human body and found out that more than 10,000 species of germs live in or on the body of human.
US scientists develop a new device 'Time Bomb' for cardiovascular treatment


NI Wire, Mon, 11 Jun 2012
American Scientists have created a new hope in the field of cardiovascular treatment that can save millions of life if its further testings become successful..........
Scientists develop bones from fat



NI Wire, Sun, 10 Jun 2012
Now there is good news in the medical science especially for those who are suffering from any bone relate problem.
Meditating daily may cut cardiovascular disease risk in teens



NI Wire, Fri, 8 Jun 2012
A recent study has suggested that meditation on daily basis could help teens to reduce the risk of developing cardiovascular disease in teens who are most at risk.
More Stories